Exhibitions
2019
GALLERY EAST launch. Ruth makes its first painting sale!!
This new contemporary art gallery opened on March 2nd in Woodbridge, Suffolk.
Gallery website
Ruth was delighted to be invited to be represented by this vibrant new venture. She is showed 5 works in their first show:
A new oil on board entitled 'Black tar and rust 2', a very large, bright watercolour (see above): 'Slowly walking', and a coastal inspired piece 'Tide Out', inspired by East Anglian mudflats and saltmarshes. These can all be found in the PORTFOLIOS on this site, and in PROCESS where Ruth reflects on their development.
SLOWLY WALKING sold at the launch.
There have been two further exhibition themes run by the gallery which also hosts discussion by some of its artists, the most recent being Francis Bowyer.
July 27 sees the launch of 'Stillness' in which Ruth has s range of work including 'Not a breath' inspired by a quiet sunny day at Hazlewood Marsh on the River Alde.
Kunsthuis Gallery, Crayke, North Yorkshire
Gallery website
This innovative gallery near to York is owned by Cecile Kreemers, who curates a themed exhibition each year.
Ruth has work in the 2017 and 2018 curations and all three of her pieces have been selected for showing in the 2019 curation: 'Positive emotions'.
Click on the PROCESS tab to read how these works came about: their inspiration and the working process. One of the three soon to be on shown (bottom image this page) gives a glimpse into Ruth's recent body of work in oils on board.
Selected for 'Positive emotions' which opened March 2019 (click on gallery website for details). The two watercolours are now sold but the gallery has retained further pieces from previous shows.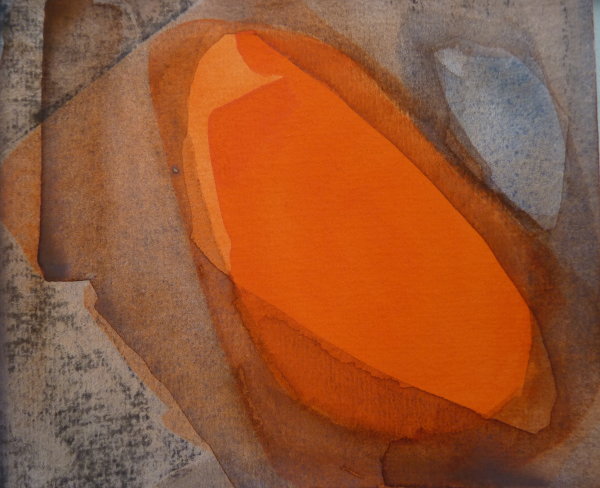 In addition
, examples of Ruth's work are usually in stock at the following galleries... but wise to contact the gallery to check, especially if making a long journey.
BURNHAM GRAPEVINE GALLERY
Burnham Market, Norfolk.
Grapevine's site
The gallery currently holds 11 pieces.
BUCKENHAM GALLERIES
Southwold, Suffolk